GETTING STARTED WITH YOUR TRAIL CAMERA LOANER
The cameras are easy to set up and use but the spot you choose is key. You'll want to think carefully about what the camera will "see" before you station it. You may already know some of the species you are wanting to film but if you don't just walk your property looking for signs of scat, or other interesting signs or markings.
Attach the camera with the supplied strap to a sturdy object like a tree, or a fence post - or make your own tripod out of sticks just something that won't blow in the wind. If placing on rocks or a structure, place rocks around it so won't get knocked over. Most animals are not bothered by the nighttime infrared lighting, some are even curious and will give your camera a sniff, but if they get very close to a low set camera some species like deer, raccoon, coyote, fox and bobcat can be spooked.
We've pre-set the camera for automatic wildlife surveying via video at 20 seconds per trigger with a 5 second reset. The settings have proven useful in our experience. If you want to change the settings to photos only or longer or shorter videos, please read the Meidase User Manual in the box for instructions.
Best practices for placement also include thinking of your neighbors privacy. We also strongly discourage using bait or lures as that often causes issues, plus it's more rewarding for "seeing" the natural story of an animal in the wild.
Once the camera is stationed where you like it, don't forget to open the camera to and select "on" between the "off" and "set" selections. Close up the camera, secure and walk away.
Since this camera is in your backyard, you can check it every day. By checking, you will open and either check on the screen by selecting "set" and pressing the OK button. Use the up and down arrow keys to toggle through the images. It's easier to take out the memory card, located on the bottom of the camera on the left, and use a memory card reader on your computer to see clearer. You can then save any images to your computer and reformat the memory card and start again.
You can refer to the user guide for more information or contact us via email: pamela@beaverworks.org
Tips for placing you camera for best success:
Face the camera lens North or South, or a slight variation. Sunrise and sunset will cause the camera to trigger too much.
Point the camera angle down a bit with a stick behind it if stationed on a path or a suspected den.
Clear out any branches or brush, tall grass directly around the area 15-20 feet away from the target spot.
Place 2-5 feet above the ground to capture a wider range.
Angle up or down a path to catch the wildlife coming or going. If you do a mid-section of a path you may miss the best action, or just get "butt shots".
You can put over a stream, river, but with caution. Water and sun reflection triggers will occur in the day time- so the memory card may fill up faster.
Check to be sure the batteries are 50% or more for night vision to work.
Make sure you turn the camera ON before setting it. And turn OFF when not using it.
Trail camera tracking can be wildly exciting but is also an exercise in patience and persistence. You may not get amazing videos or photos in the first couple days. You may realize you need to reposition and adjust settings to meet your goals. Generally after a week, you should have a better understanding of working the camera to have a greater understanding of the wildlife on your property. We are excited for your journey and discoveries!
Questions?
Email pamela@beaverworks.org to reserve a trail camera for up to 2 weeks with online and phone support.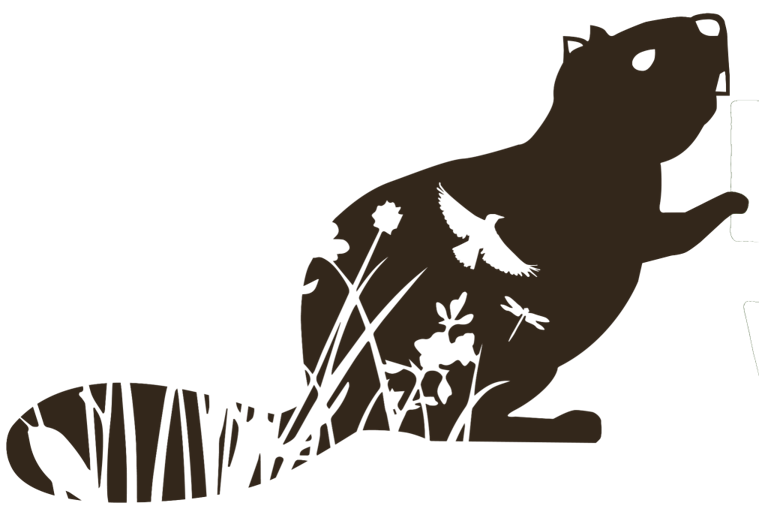 RIVER NEIGHBORS OF THE DESCHUTES
Living on the banks of the river, you know the honks of geese, slaps of beaver tails at dusk, and trout rising for mayflies. You know the wild rhythms of waters that swell, recede, surge and flow always downstream. We are ALL river neighbors—wildlife and people together. But as relative newcomers on the scene, people have much to learn from the wild inhabitants.
We invite you to join us in finding ways to co-exist with fellow humans and wildlife alike. Living on one river, we are linked to one another. Each person brings a perspective, values, and a way of knowing. What we hope to find are the common currents, and an openness to learning about the ecology of the Deschutes. We invite you to consider being ambassadors for a river section—championing acts of reciprocity, so we all may give back to the river that gives so much.