RIVER NEIGHBORS INITIATIVE
Living around the remarkable Deschutes River, you may know the honks of geese, trout rising for mayflies and the wild rhythms of waters that swell, recede, surge and flow always downstream. We are ALL river neighbors—wildlife and people together. But as relative newcomers on the scene, humans have much to learn from the wild inhabitants.
We invite you to join us in finding ways to co-exist with fellow humans and wildlife alike.  "River Neighbors" is a timely, impactful initiative fostering community involvement and stewardship of the wildlife who've made their homes along the Deschutes for eons. (Learn more about the initiative here).
Join our campaign to further awareness and stewardship of wildlife rich Riverhoods along the Deschutes River.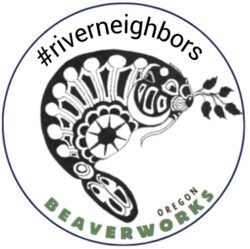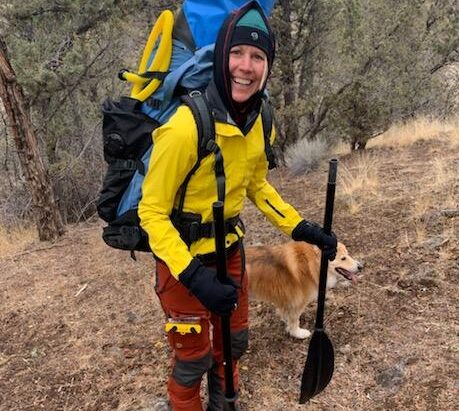 GIVING LEVEL: $500
A BEAVER ADVENTURE WITH BEAVER WORKS FIELD TECH
Adventure with our Western Beavers beaver monitoring specialist in a half day of site visits along the Deschutes with current beaver activity.
You'll receive this adventure, plus the items below.
GIVING LEVEL $250
BEAVER AND SALMON DANCE PRINT (12" x 16")
by Frieda Guercio
"Inspired by a deep reverence for all living things, the illustration emulates histories carved on totems and the stories told over time through different cultural symbolism. Nature's richness is captured here as the beaver and salmon dance & connect to co-create a thriving habitat." - Frieda Guercio at @friedacreate
You'll receive this wonderful print and the items below.
GIVING LEVEL: $100
"BEAVER CALM" MEDITATION VIDEO LIBRARY
Access to our exclusive "Beaver Calm" meditation video library, 60 minutes of beaver families foraging along the Deschutes River. A Beaver Calm listener relays... "Its nature, beaver families feeding and flowing river sounds, and its so very relaxing (and sweet). These videos really calm my mind, an escape as if I'm right there with them."
You'll receive access to the library, plus the River Neighbors sticker for you and a friend.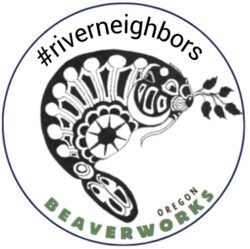 GIVING LEVEL: $25
3" RIVER NEIGHBORS STICKER
You'll receive this attractive 3" River Neighbors sticker with artwork by Frieda Guercio.